Pill Boxes and Containers
Pill Boxes
To small to hold the daily intake of your vitamins/medicine.

Lids are either:
a. Too tight and difficult to open
b. Too loose and can easily pop open and spill the contents.

Containers

Difficult to track pills and/or dosage taken.

Bulky and difficult to pack and transport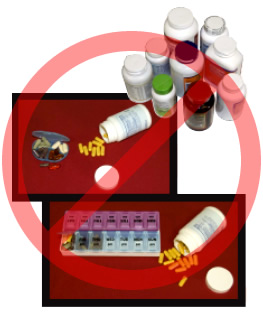 Wellness Travel Pak
Replaceable Slide Zipper Bags
Double Two-Compartment slider zip bag sides can hold several pills

of various size. Compartments could be used as AM/PM or

for multiple smaller sized pills.


The larger slider zip bag can be used in the same way and allows you

to hold many more vitamins/supplement/medication pills of any size.


Ensures contents stay put and is easy to open for convenient loading
and unloading.


Attractive design that is compact enough to pack in your briefcase,
purse, travel bag, or backpack.



Wellness Travel Pak
Taking the correct dosage of vitamins/medication at the right time is key to maximizing the full intended benefit of your vitamins/medication.